LOOK WHAT I MANAGED TO CLAIM IN THE NAME OF GACKT TODAY!!
Oh yes, the ribbon wasn't picked up by any student so I snagged it today.
I've been looking at some ideas for Halloween costumes tonight and was looking at Rakuten but damn, they're all so skanky. I know Halloween is the the time of year where nice girls can get away with looking skanky (I'm sure that's the only reason the holiday is celebrated anymore) but I'm far too classy a chick to be skanky, even just for one night XD
I saw a cute flight attendant outfit that wasn't too skanky (short skirt but not too bad) so that's an idea or I might just be boring and obvious and go for the school girl look. It'd be a better use of my limited funds this month as it'd work for Camui Gakuen next month if we get tickets.
I was cleaning some scans earlier from Appeal+ing and it was taking quite a bit of time because the paper quality of the magazine is awful (but then again, what do you expect for 200yen?!). I came across this one scan of GACKT shirtless (the best kind of GACKT, I'm sure you'll agree) and I was really annoyed because there were some big white marks over it.
Then I realised they're not white marks. IT'S JUST WHERE THE LIGHTS HAVE CAUGHT HIS
sweat
SPARKLES.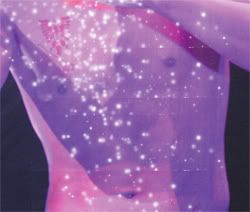 (Additional sparkles may have been added by Photoshop. Maybe.)
(Ha, he looks like he has some radioactive disease...)
Reason #154,837 of why Johnny Depp is perfect
. I want him and GACKT to have a perfect off. I think Johnny would win but it'd be fun to watch XD
And I think I'm in love with
Christian
all over again. His Twitter is really funny and full of lulz, especially now he has spare time due to his injury.